The Pian Upe Game reserve experience organized by Wanderlust Adventures, will introduce you to one of the most remarkable protected areas in the Karamoja sub region, Northeastern Uganda. Pian Upe game reserve covers an area of about 2788 square kilometers which makes it the second biggest protected area in the country just after the Murchison Falls National Park in Northwestern Uganda.
Pian Upe game reserve lies in Eastern Uganda, north of Mount Elgon. Connected to Matheniko Game Reserve (160,000ha) by the Bokora Corridor Land Tenure Government Physical Features. This is a high plateau area of rolling plains with black cotton soil drained by intermittent watercourses flowing westwards into Lake Kyoga.
Most of the area is subject to inundation during the rainy season. Mount Kadam (previously Mount Debasien) near the border with Kenya is the highest point in the reserve at 3,068m. Vegetation Most of the area is wooded savanna grasslands with some forest in the north on the margins of a higher ridge.
The southern side of this incredible game reserve was gazetted as the Debasien Animal Sanctuary in 1958. In 1964, this area was extended northwards and it was named Pian Upe Game Reserve. This remarkable game reserve is composed of hot springs and it is sighted as one of the incredible destinations with mercury wells just at Mount Kadam. This tremendous wildlife reserve derived its name from the Karamojong local dialect which denotes "Friendly Enemy."
Pian Upe game reserve comprises of untouched grassland and wooded grassland. There is also a section of riverine woodland, kopjes and others. The main tree species in and around the reserve include the red acacia, desert date, bush willows, harrisonia abyssinica, and red spike thorns as well as shrubs such as butterfly pea and wooly caper bush.
THINGS TO SEE IN PIAN UPE WILDLIFE RESERVE
Mammals
The Pian Upe Wildlife Reserve is composed of numerous mammal species like lions, elephants, leopard, buffalo, mountain reedbuck, black rhinos, Jackson's hartebeest and giraffes. There are plain zebras and common elands, oribi and the only roan remaining antelope in Uganda.
Birds
The Pian Upe wildlife reserve is also a home to unique bird species which makes it an ideal birding ground for world birders. The rare birds to catch a glimpse at while in your Pian Upe game reserve experience include the uncommon ostrich, great hartlaub's bustard, white headed buffalo weaver, secretary bird Sagittarius, uncommon yellow-billed shrike and Jackson's hornbill.
Reptiles
There are magnificent reptiles to see in the wilderness most especially the rock pythons and puff adders as well as harmless water snakes. The largest lizards in Pian Upe are the Savannah monitors. Others in the reserve include the common agama as well as skinks, chameleons and geckos.
THINGS TO DO
As you plan a safari to Kidepo Valley National Park in North Eastern Uganda or Mount Elgon National Park, include Pian Upe Wildlife Reserve into the list of destinations that you need to visit for wildlife safaris and bird watching and be filled with untouched wild experiences of life time.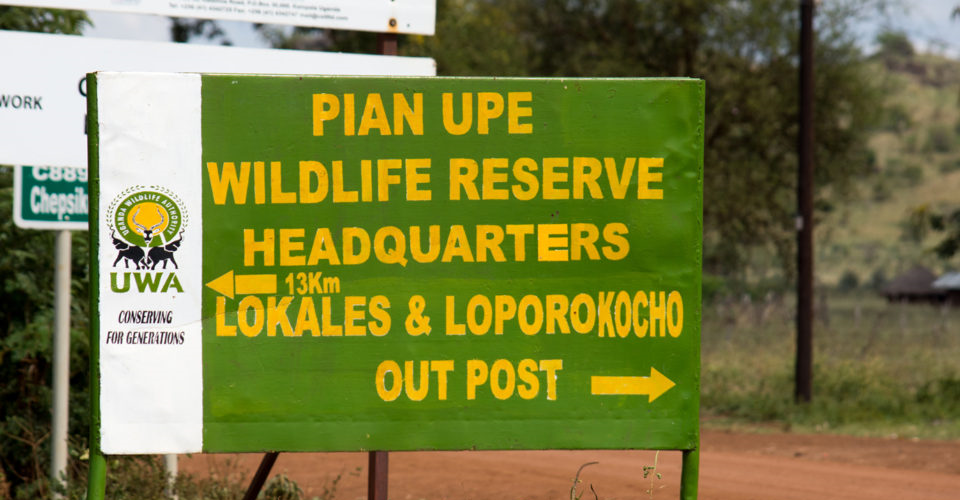 Game Drives
A Pian Upe game Reserve experience rewards you with astonishing views of diverse wildlife species like zebras, buffaloes, leopards, lions, giraffes, greater Kudus, Topis, Oribis, Hartebeests, dik-dik, roan antelopes, jackals, aardvark, cheetahs, spotted hyenas, elands, hedgehogs, birds such as Ostriches, Jackson's hornbills, white headed buffalo weaver, hartlaub's bustard as well as primates like olive baboons, patas monkeys, vervet monkeys and others.
About 44 mammal species call this reserve a home most of which are within Uganda and limited to this reserve as well as the Karamoja sub-region. On the other side, approximately 242 bird species are confined in this wildlife reserve. The reptiles include rock pythons, puff adders, water snakes, lizards and others. It is dominated by tree species in red acacia, desert date, harrisonia Abyssinia, red spike thorns; shrubs like butterfly pea, wooly caper bush and others.
CONTACT US || To Book this Experience